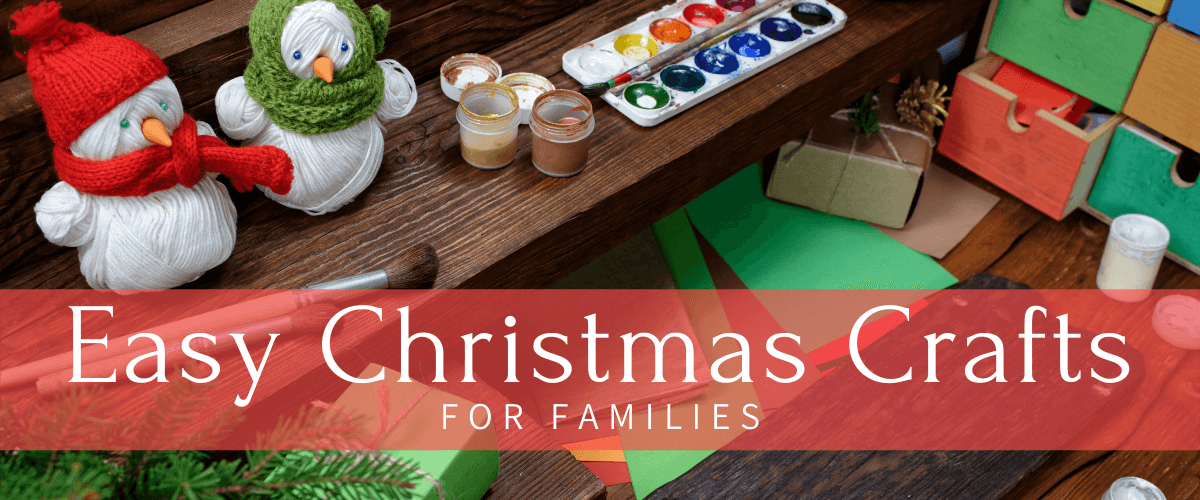 December is a month to intentionally slow down, spend time with our loved ones and soak in all the magic. One of my most favourite memories of my childhood Christmasses is craft afternoons with my mum and my sisters. You'd think I would have grown up being a bit more talented when it comes to arts & crafts. But fact is, I am not. So I for my own family now I really needed to find some easy Christmas Crafts and because I know there are lots of people like me out there, I just thought I'd share them here. Some of those Christmas Crafts would be perfect for a Christmas Eve Box to provide for a nice and calm activity before the big event.
Here's to many enjoyable craft afternoons this Christmas and lots of beautiful memories that will become lovely childhood memories for your children!
1. Easy Christmas Crafts: Colour-in Baubles
I love making ornaments and decorations for our tree with the kids. That way they can leave their 'mark' year after year and our tree is like a living artefact of our Christmas history as a family. Colour-in Baubles are great for children of any age really. Young kids can scribble and colour in, while older children and adults can choose to use their own designs within the baubles.
You can even add a bit of biodegradable glitter or stickers to make them extra festive. After you are finished with your design you simply pop them inside the transparent bauble, close it securely, attach the string et voila – your very own tree decorations to cherish!
2. Go Natural with Dried Oranges & Foraged Treasures
When it comes to easy Christmas Crafts I don't think it gets any easier than garlands made from dried orange slices and other foraged treasures. They are also completely natural and plastic-free! Simply get one (or more) orange, slice it in approx. 7mm thick slices and lay them out on a baking rack that is covered in greaseproof paper. Place them in the oven, set your temperature to 110°C and leave them for 2-3 hours. Check on them regularly and turn them at least twice. You could also use a food dehydrator, which will give you a faster result. Generally, oranges dry to a darker colour in the oven and to a bright orange in the dehydrator.
Once they are done you can use them in garlands for stairs and mantelpieces, as ornaments for your tree or in centrepieces for setting the scene on Christmas Day. Combine them with foraged treasures like greenery from the forest, pine cones, acorns or other things you might find in your pantry like cinnamon sticks or cloves.
Don't have time to go foraging? You can order natural pine cones HERE!
3. DIY Mini Christmas Tree
The Christmas tree has such a huge role to play during the festive season and I always loved decorating the tree – just like my kids love it now! So letting them decorate their very own DIY Christmas tree is the perfect activity for a craft afternoon in December. These little pre-cut trees are made from foam and come with their own little pot. It is very easy to put together, even for little hands. Once constructed you have lots of choices for decorating it. Use stickers, pens, glitter or design your own ornaments, cut them out and stick them on.
4. DIY Christmas Wreath
Is there anything more inviting than a Christmas wreath? I love them, even just looking at doors all dressed up for Christmas makes me feel all warm inside. Even though many people think otherwise, making your own DIY Christmas wreath with children is quite straightforward.
For a traditional approach, your first port of call is again your local woods. Forage for some evergreens, boughs of holly or even mistletoe, red berries and pine cones. You can pick up blank wreaths and a bit of florist wire in your local flower shop or garden centre. Now, all you have to do is arrange your materials and secure them in place around your wreath form.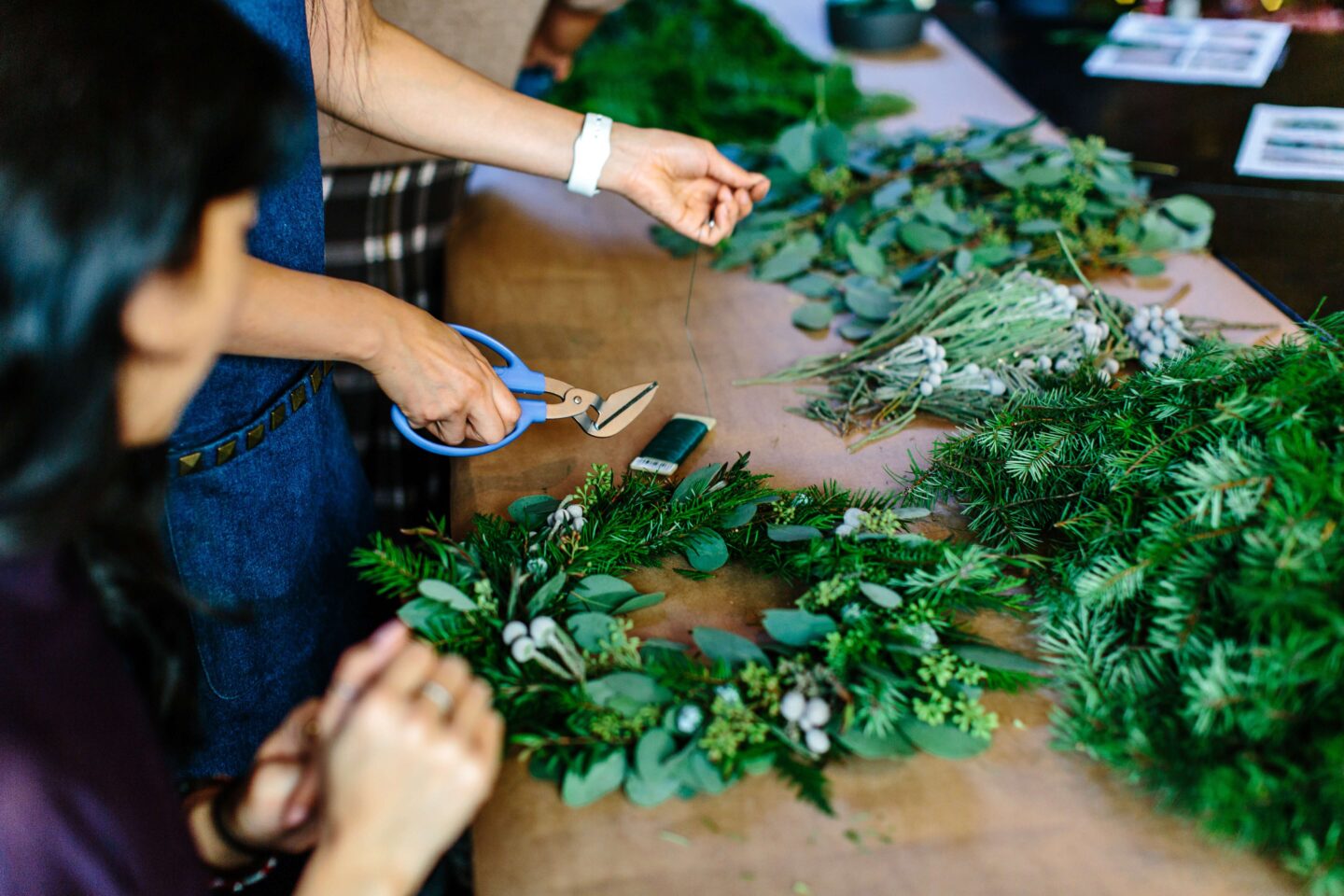 If you are doing Christmas Crafts with very young children and want to get them involved in making wreaths, you could get a simple wooden wreath. This base can then either be decorated with colours, stickers or natural materials. Or you'll opt for a more stylish design by covering the wooden base in string. The string can then be used to secure other ornaments.
Tip: If you have a December birthday and need to organise a kids party, making these wreaths will be a perfect activity. You can get them in sets of 6 HERE!
5. Easy Christmas Crafts: Magical Elf Door
With the tradition of the Elf on the Shelf getting very popular in recent years. An elf door is quickly becoming a Christmas staple in many households. No surprises there, after all a little door provides the perfect explanation to the question: "Mum, how do the elves come into our house?" – GENIUS!
We actually made a Christmas elf door a couple of years ago on Christmas Eve and bring it out every year. The Christmas elves enter our house together with Santa Claus on the big night. The kids absolutely adore it and we get it out every year. If you don't know how to go about making an elf door yourself, you can get ready-made sets that you just need to put together, put as much or as little of your own spin on it as you'd like and you're done!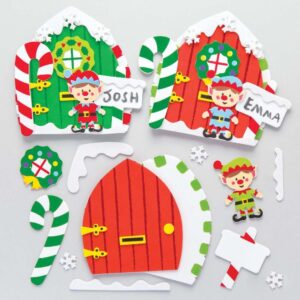 6. Easy Christmas Crafts: Mini Felt Stockings
If you like your tree decorated in a colourful way and with more than just baubles, then these mini felt stocking ornaments are definitely for you. Especially, when you are crafting with older children. The stockings are available ready-made and you can decorate them using anything you already have at home. Like waste paper, little offcuts of foam, string or cardboard from other craft projects. Or grab needles and thread and create a lovely embroidery look.
They can also double as reusable gift tags for presents. Either use a colour code eg. each child gets their own colour and can then open the corresponding present or write the names on the back and keep them to use every Christmas.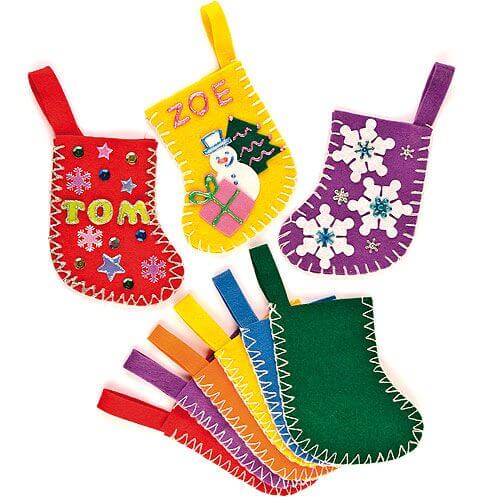 7.The Christmas Craft Classic: Paper Chains
I have to admit that I don't know paper chains from my childhood but I absolutely love them now. They are just so so easy to make and can really transform a room. You can be as adventurous and creative as you like with colours and patterns or keep it simple and elegant. There is probably no look a paper chain can't pull off. Plus they are a great way to make use of all the waste paper you collect during the year as you obviously only need small bits of paper.