In times of screens being literally everywhere, screen-free and child-friendly audio players like the Yotoy Player and the Toniebox are a welcome sight on the market. The idea is simple and yet genius: No screens, easy to work, and portable designs! They both promise to encourage children's imagination and promote independence. But how do both players compare? Where are their differences and who are they most suitable for? My kids and I have been using them both for quite a while now and have been able to compare them in every detail: Yoto Player vs Toniebox – here are the results!
---
Yoto vs Toniebox: Backstory, Service & Packaging
Both Players have been created with the same idea in mind: Screen-free entertainment for kids that can be used independently! So in essence both products serve the same purpose but in different ways. Where the Toniebox clearly aims to be playful, colourful and easy to use even for the tiniest hands. The Yoto Player has set out to grow with children. It is a carefully connected device that offers versatility with podcasts and its own radio in addition to the playable cards.
Reducing unnecessary packaging and plastics from family products is something EVERY company should do. Yoto definitely scores with their (almost) plastic-free packaging. In fact, the product packaging consists exclusively of cardboard – the postage bags that are used to post the cards though are made from plastic. The packaging of the Toniebox is similar, however, the Tonies are sadly packaged in plastic, whereas any delivers I ever received from them were packaged in cardboard only.
I never had any urgent reason to contact the customer service of either company. However, whenever I did have contact with them, the service I received was flawless. In my experience Yoto can have a longer turnaround around time with emails. But both companies are very accessible through social media which in urgent situations can be handy. Both companies seem to take on board comments, critic and wishes from their communities. Yoto, in particular, encourages users to voice their opinions in their Facebook group.
In this category, both products are true equals in my opinion!
Yoto Player vs Toniebox: Quality
Both players have a similar cube shape. Where the Yoto Player sports two orange-coloured knobs on top, the Toniebox has two characteristics "ears". Those controllers regulate the volume on both players – the knobs on the Yoto Player are also used to switch on the daily podcast, radio and Bluetooth. With the Yoto those controls are customisable via the corresponding app. A third button on the right lower corner of the Yoto Player is the on/off switch – the Toniebox is simply switched on by placing a Tonie on top and pressing one of the volume controls.
When it comes to built quality, I have to give it to both of them. They are sturdy and feel incredibly well made. The Toniebox has one clear advantage though: it is padded! The entire box is soft, so no matter what kind of falls and battering it has to endure it will likely just absorb it. Believe me, our just turned three year old has put it to the test. The Yoto Player's outer consists of hard plastic, which is why I always felt a bit nervous giving it to my toddler. Even with the adventure jacket on – a silicone layer that protects the player – it still doesn't come close to the almost cushion-like feel of the Toniebox! That said, in the hands of older kids the Yoto Player in combination with the Adventure jacket is perfectly safe.
In terms of quality, I would rate the Toniebox slightly higher due to the padded protection that makes it seem overall sturdier!
Yoto vs Toniebox: Setup & Usability
Let's start with the Toniebox setup. Besides the Toniebox you'd need your phone and a wireless internet connection. First off you'd need to create an account and download the Tonies App. Once that is done the only thing that is left, is to connect the box to your wifi. This works through the app – you simply grant the Toniebox access to your wifi and you are done. As soon as you place a new Tonie on top of the box it will start downloading the content and start playing almost immediately. You can play Fully downloaded songs & stories offline.
Tip: Read more detailed information about how the Toniebox works in my review post HERE!
The setup of the Yoto Player is based on the same principle: you'd need to connect the player to your wifi. For this purpose, your Player is delivered with a Welcome Card. Simply slot the card into the player and follow the instructions. Every new card is also here downloaded to be playable offline. This means neither the Toniebox nor the Yoto Player need to be connected to wifi on a permanent basis.
If you want to hear more about the Yoto Player, check out THIS post!
Yoto Player vs Toniebox: How easy is it to use the players?
Before we get into the details, I think it is important to say that both products are designed so children can use them independently. While they have different functions all my children (from 2 up to 8+) are able to work them. Hence both players have absolutely succeeded in their mission to give children that kind of freedom!
While the Toniebox is working with handpainted figurines, the Yoto Player has cards that are the size of a credit card. Every audiobook or song album has its own card or tonie. To play the content all you have to do is either place the tonie on top of the toniebox (it is magnetised so can't fall off easily); or slot the card in the Yoto Player. If it is new content, it will be downloaded and start playing almost straight away. Once you have listened to a tonie or card before it is downloaded and can be accessed when your player is offline.
In addition to story and music cards/tonies, both systems also allow for customisations. In the Tonie Universe, you can do this with so-called Creative Tonies. These are basically blank tapes. Following an easy process, you simply add your own content (or voice recordings) and your child can play them in the same way they play the content tonies. Similar process with the Yoto Make Your Own Cards. Just add your audio files or recordings to the cards on the app and away you go.
What do the "ears" and knobs do?
When jumping chapters or to the next song, you'd use the control knobs on the Yoto, while you simply tap the side of the Toniebox. You can change the volume or access the Yoto Daily Podcast and its Radio station by pushing the knobs on the player. Since the Toniebox doesn't have those features, there is no need for the "ears" to have different functions. They simply just regulate the volume.
So while both players work effectively in the same way and are both very user-friendly, I would rate the Toniebox to be a tiny bit easier to use. This is mainly due to the fact that it doesn't have any additional features. When my 2-year-old used the Yoto Player he was able to put on his story by inserting the card. However, when he tried to change the volume, he accidentally switched to the podcast and from there to the radio. Of course, if the Yoto is only used by a young child these features can be disabled and won't cause confusion. I can't do that though, as my older kids would miss them 🙂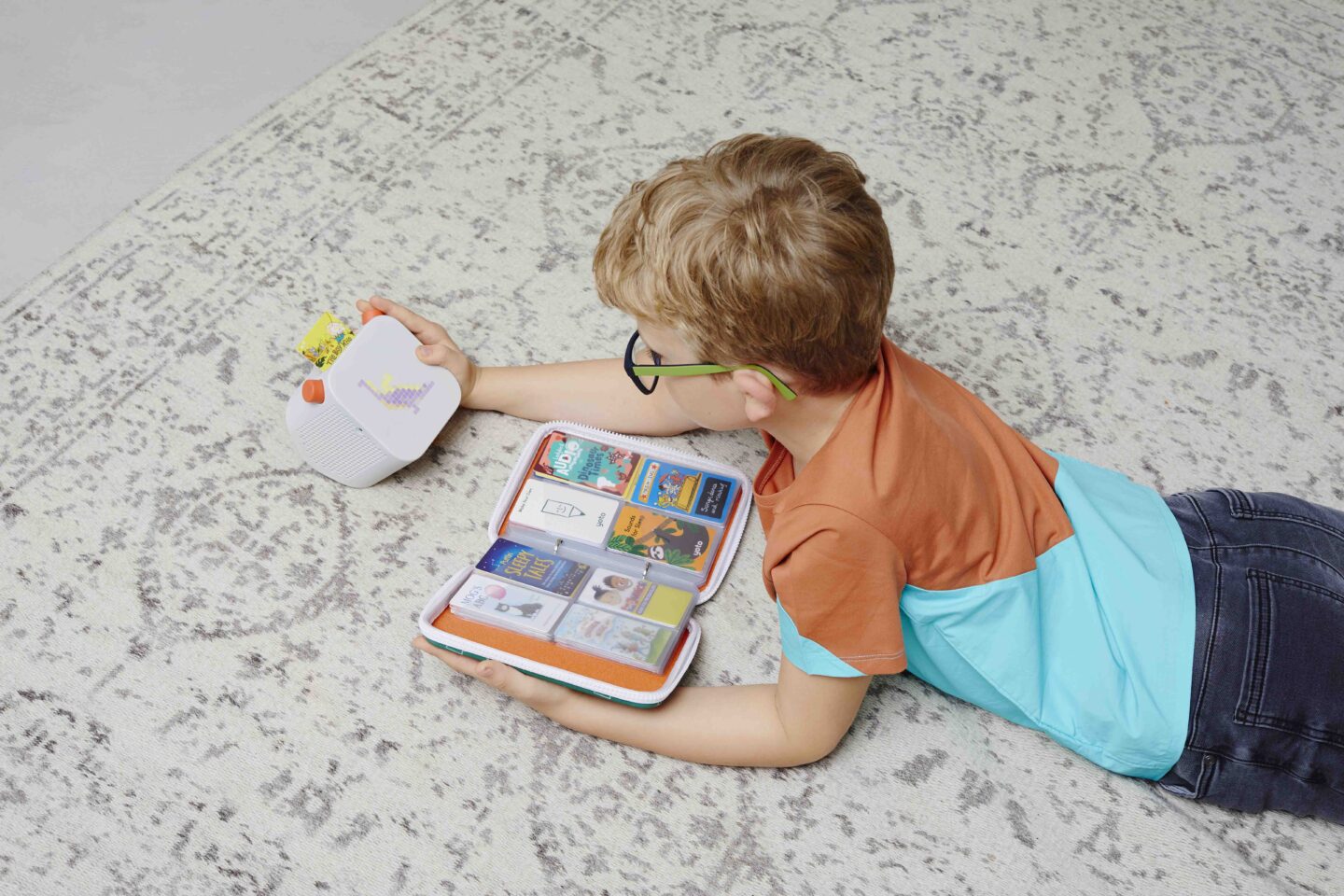 Yoto Player or Toniebox: Systems & Accessories
As with everything else so far the Yoto Player and Toniebox are also pretty similar when it comes to their systems and accessories. First off: Both products work through a cloud-based system and are controlled through an app. The Yoto and Tonie App are both very straightforward to use.
Within the app, you can decide the maximum volume of the player, create and manage Make Your Own Cards or Creative Tonies, and in the case of the Yoto Player you can also customise certain features like the function of the buttons.
The Must-Haves
Both companies have brought out a number of different accessories for their players and cards/tonies. Starting with the most important ones for the Yoto Player: The Adventure Jacket and the screen protector. As explained above, the Yoto Player itself is made from hard plastic and can definitely use the extra layer of protection. The Adventure Jacket is made from silicone, comes in an array of colours and is available at a discounted price when purchased with the player. It fits very snug around the player and protects it from accidental damage. The same goes for the screen. The Toniebox is padded and protected by nature so no need for those kinds of accessories.
The Nice-to-Haves
While there is a universal headphone socket in both players, you can order the Yoto or Tonie headphones to go with your player. These are comfortable, super soft and designed for the delicate ears of youngsters. To store tonies or cards both companies offer storage solutions. While you get a binder-like album to store Yoto Cards at home and a little card pouch for out and about, your tonies are packed away safely in a small hardshell travel case. If binders are not your thing, Yoto also offers card magnets that will allow you to simply stick your cards onto a magnetic surface (like a memo board). Tonies are already magnetic, which means you can safely keep them on top of magnetic surfaces anyway.
Since it is very easy for cards and tonies to get lost in around a busy playroom; it is very handy that any of the content can also be played on each of the players through the app.
Toniebox vs Yoto Player: Features
The main functions of both products are, of course, the same: Playing stories & music in a straightforward manner so kids can independently access their favourite song or story. This key feature is the only feature of the Toniebox. Without any bells and whistles, it does what it is supposed to and it does it well. It is easy to setup, easy to use and the sound quality for a speaker that size is outstanding!
In addition to its main purpose, the Yoto Player has a few additional features. Something that is unique to the Yoto Player is the pixel display. This little screen displays pixelated pictures corresponding to the content playing. With Make Your Own Cards you can even create your own little pixel-symbol.
As mentioned above you can use the Yoto Player also as a Bluetooth speaker. Simply connect your phone to the player and you are good to play whatever audio you can access from your phone. Yoto also included a nightlight feature and a child-friendly sleep-timer.
In terms of content. The Tonie Shop offers an ever-growing selection of story, music and Creative Tonies. All the tonies are magnetised, hand-painted and waterproof. They often double as play figurines here. With the Yoto you can also choose from a huge range of stories, music and, of course, blank cards. In addition to this, you also have access to a number of podcasts that can be played via the app; as well as Yoto's very own daily podcast and radio station which can be accessed for free whenever your player is connected to wifi.
It is safe to say that in this category of the Yoto Player vs Toniebox comparison, the Yoto clearly deserves a point for all its additional features and thought-out functions!
Toniebox or Yoto: Battery Life & Portability
When looking at the Yoto Player vs Toniebox, it is important to note that both products are portable. As soon as you have downloaded new audio content by inserting the card or popping the tonie on the box; you are good to go and free to enjoy your player anywhere. However, you'd need to make sure that your battery is charged.
The Toniebox and the Yoto Player are both sold with charging stations that are safe and easy to use for children. A full charge takes about 2 to 3 hours. Yoto advertises 6 hours of audio time, whereas the Toniebox claims 7 hours. I have not timed it, however, it feels like the Yoto Player needs to be charged more often than the Toniebox when they are used about the same throughout a day/week. We mainly use the Player at home and since they can be used while charging this makes no difference to us.
Tip: In the app, you can set the Yoto's display to go to sleep – while the audio keeps playing. This saves a good bit of battery life while you are out and about!
Yoto though has just released a new player. The Yoto Mini was specifically designed with portability in mind. It is quite a lot smaller, lighter and more efficient when it comes to battery life. If you would like to know more about the Mini click below for my detailed post.
Yoto vs Toniebox: Age Suitability & Fun Factor
This one is probably a factor that is a little different for everyone. After all, no child is the same and everyone has different preferences as well as different ideas of fun. So it is important to note that this is just what my kids told me and what I think myself.
The Age Question
Both products are advertised for children from 3 years up. And the Yoto and Toniebox are both absolutely usable by children as young as three and in some cases even younger. However, when I get emails asking for my opinion on which player to get for very young kids, I always recommend the Toniebox. This has two reasons: the simplicity of the player that makes it just so straightforward to use AND the pretty much indestructibility of the box itself. That said, my youngest son was able to use the Yoto Player from about 2.5 years on. The different functions of the buttons did confuse him but as mentioned earlier, these can be disabled in the app.
When I receive a message asking for a recommendation for siblings of different ages that are to share one player; or for older kids (5+) I tend to recommend the Yoto Player. It is a player that grows with your kids. When they are young it offers them the chance to listen to their favourite stories and songs independently. Once they get older and in the tween or even teen stage, the player can be used as a Bluetooth player with their devices. The neutral design of the Yoto Player should still be "cool" enough at that age, whereas I'd imagine the Toniebox wouldn't look as appealing for an almost teenager.
To sum it up:
So to conclude this Yoto Player vs Toniebox comparison based on age: For children 5 years and younger, I think the Toniebox is the most suitable choice. And from my experience will be used for many years until they get to the age when everything they always loved suddenly becomes "uncool" or "babyish". From 5 years up until early teens, I would think the Yoto Player is a good choice; especially, if a younger and an older sibling are supposed to share the player!
Fun is How You Make It
First off, both products are without a doubt a lot of fun to use! The Toniebox is bright and playful by nature. The tonies add a very real play factor to the entire experience and bring the stories and songs to life. I mentioned this above, my kids really love playing with their tonies; in a similar way as they would with any other small figurines. The fact they are magnetised makes them especially interesting, as they stick to radiators and the links and open up a whole new level of play.
The Yoto Player creates a similar fun and playful vibe with its little display. The glow of the colours is mesmerising at night and always reminds me of the circus for some reason! While the Yoto lacks the physical play that you'd get with the tonies, it makes up for it through the Yoto Daily Podcast. Every day Jake (chief podcast moderator at Yoto), presents a few minutes of interesting facts, kid-friendly jokes or little jokes to add a bit of joy to your every-day-life. In addition to that, you can send in your child's birthday for a shoutout on the podcast or submit your jokes to be broadcast. Both are very special occurrences for little ones and definitely a lot of fun!
Yoto Player vs Toniebox: Price & Value
Let's get down to the money. Please note that I have taken the quoted prices directly from the Toniebox and Yoto websites, retailers might have listed different prices.
What does a Yoto Player cost?
For the Yoto Player, you will have to pay €99.99/£89.99 initially. This prize includes the player, the charging dock and the welcome card. This card is needed for the setup and can be used as a Make Your Own Card afterwards. I would highly recommend adding an adventure jacket in order to protect your player. When bought together with the player this jacket adds another €24.99/£19.99 to the bill. Bought on its own it will cost you €29.99/£24.99. When you add a pack of three screen protectors for €5.99/£4.99 on top of that you'll end up with a total cost of €130.97/£104.97.
Yoto cards are available from just €2.99/£1.99, however, the more popular stories and albums would cost you between €5.99/£4.99 and €9.99/£8.99.
In some regions, you can sign up to join the Yoto Club. This is a subscription service that will automatically send you monthly cards and gives you free shipping on all your Yoto Shop orders. Yoto Club members also receive 10% discount on any subsequent orders. You can either pay £9.99/month or £99/year. Sadly, the Club is not available in Ireland and some other regions yet.
---
What does the Toniebox cost?
The Toniebox Starter Set includes the box itself, the charging station and one creative tonie. It is currently available for €79.95/£69.95. Since the Toniebox has no screen and is padded already there is no need for any additional purchases, so this is the total figure of your initial purchase!
The Tonie figures start at €11.99/£9.99. Most of the content tonies (music & stories) will cost you €14.99/£14.99, while the creative tonies have a set price at €11.99/£11.99. Recently, the company has added Steiff tonies. Instead of a small tonie figurine, you'll receive a Steiff-teddy (different variations) to play the audio content. Basically: A cuddly toy that can tell a story. These are currently sold at €34.99/£29.99.
Yoto Player vs Toniebox: Are they worth the price tag?
Neither of the players is cheap. That is a fact. When you compare them to other radios, cd players or cassette players the price tag can seem incredibly steep. So, are they worth the money?
In my opinion they BOTH absolutely are worth it! Regardless of what you decide when you compare Yoto vs Toniebox, both players allow your child to use them independently. Independence is such a huge thing, not just for smallies, but also for older kids. With the Yoto Player or the Toniebox you don't have to worry about ads, inappropriate content, accidental surfing of the wrong kind of content online etc etc. They are fun, they are engaging, they are long-lasting and they give your children this very special gift of independence (at home and out & about). So YES, they are worth it!
Yoto or Toniebox: THE VERDICT
I wonder how many of you have just skipped to this part 🙂 so I will try and sum it up in a few words!
The Yoto Player and the Toniebox might be similar and serve the same purpose, however, they are two different products that ultimately suit different people. Where younger kids (younger than 5) will definitely benefit from the simplicity, the playfulness and the sturdiness of the Toniebox. Older kids will appreciate the neutral design, the podcasts and radio as well as the Bluetooth connectivity of the Yoto Player!
If money is a deciding factor and you can limit yourself to just the very basic then the Toniebox is the more affordable option. You'll get the box and one customisable tonie for €79.99/£69.99 – so theoretically you can just use that and infinitely update the audio content on the customisable tonie. If you are planning to purchase a lot of content in form of tonies or cards then the Yoto Player has more affordable options.
So, you guessed it, the verdict is up to you. I have given you all the information to the best of my knowledge and our experience with both players. Now it comes down to your circumstances, your preferences and your priorities.
If you are still unsure or have any specific questions about the Yoto Player or the Toniebox, please feel free to leave a comment below or send me a quick email on nadja@labellessmum.com!
Frequently Asked Questions about Yoto vs Toniebox
What is the difference between Tonies and Yoto?
The main difference between Tonies and Yoto is the method of how audio content is played. While the Toniebox uses figurines, the Yoto Player works with Cards similar in size to a credit card.
Is Tonies or Yoto better?
Tonies is better for younger children, as it is more playful and sturdier. Yoto would appeal to older kids and maybe even teenagers due to its Bluetooth connectivity and understated neutral design.
Is a Yoto Player worth it?
A Yoto Player is definitely worth the money because it offers a lot of variety when it comes to audio content. It can be used throughout childhood and beyond so will definitely be worth the initial cost.
Is a Toniebox worth it?
A Toniebox is absolutely worth it, as it will bring a whole new layer to storytime and encourages children from a very young age to listen to their favourite audiobooks and songs independently. The playfulness, good sound quality and sturdiness add to the longevity of the audio player.